Understanding Hair Porosity and Finding the right Hair Products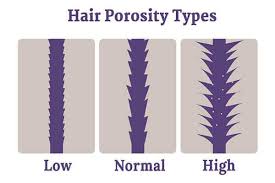 Many people get caught up in learning about their curl pattern when truly it's best to understand your hairs porosity. Let me give you a quick run down of what porosity is. Porosity is the hairs ability to absorb moisture in the hair. It is broken down into 3 porosity types. Low, Medium, and High.
Low porosity is where the hair shaft will sit on top of one another, which in return makes it hard for moisture to pass through properly, you can tell if you have low porosity by certain characteristics. Your hair may typically tangle easily, when you spray water on your hair the water will bounce back on you, or it may feel like products just sit on top of your hair and your hair feels greasy. If you can relate to any of these traits, then I recommend making warm water your best friend, steaming your hair is a great option I prefer to just jump in the shower and allow the steam to open my shaft that way. Also prior to adding hair product to your hair mist your hair with a spray bottle that's warm. This will help your hair shaft open up and allow moisture and the proper nutrients to come through. You will also want to avoid using too much product in your hair, too much product build up can cause slow growth and an irritated scalp. My recommendations for low porosity hair are products made with light oils, (ex. grape seed oil, coconut oil, almond oil, etc). These products are great for low porosity hair you can find these oils in the Hibiscus Collection, Mango Balm, and Herbal Crown Oil. Also try utilizing the LCO method in your regimen (Liquid, Cream, Oil) layering your hair this way will help seal in moisture with the cream.
Medium Porosity, the beauty about being in this porous section is that your hair has the ability to use anything moisture passes through the hair evenly so your also able to use chemicals with out any real issues. Although you can teeter totter on the spectrum if you don't properly care for your hair and you over process your hair strands. If you feel you just need simple moisture for your hair and a healthy product I recommend trying out either the Hibiscus Collection or Chebe Collection and make your pick of which is your favorite.
High Porosity hair shaft is open, it's just too open, this issue makes for moisture to come in with no issue but it escapes even quicker. If you are in the high porous area, your hair is always dry even after applying some type of cream or moisture to it. During wash day you notice your hair drying quickly as well, a great solution for high porosity hair is using heavy oils( ex. Jamaican oil, castor oil, olive oil, etc). Heavy creams will also be a great addition to your regimen, try utilizing the LOC (Liquid, Oil, Cream,) method because your hair is losing so much moisture you want the oil to help seal in the liquid, then following up with the cream. Feel free to try the LCO method as well. The Chebe shampoo & deep conditioner has oils in it to help with sealing in that moisture you need. 
If you are looking for more tips and guidance to a healthy hair regimen, consider this Hair Care Journal, which will give you a visualization of your hair treatment while keeping track of your product usage and discovering what your hair needs. The natural hair world can be full of trails and errors but you can cut down a lot of issues by learning your hair.